A small bird of twigs and clouds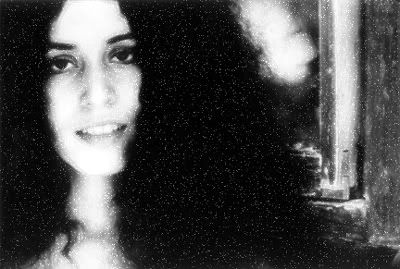 I happen to have one of those brains that can remember a song or piece of music after hearing it only once. Not perfect sonographic recall, mind you, but pretty close. I can readily resummon the gist of a piece enough so to play all or part of its melody line on the piano, guitar, cedar flute, or violin. I was simply born with this not too uncommon antechamber in my otherwise tonospherical tracthouse soul.

Generally, it's something in the melodic structure, the articulation of one of the instruments, perhaps, an overall arrangement or singular emplacement within the soundscape, however simplistic or complex. Whatever peculiarity might have been present enough for me to warrant the focusing of my tympanic lens into taking a synaptic snapshot of it, I've done so with maddening regularity archiving thousands of compositions permanently within my musulla oblongata, retaining nearly perfect pitch and tempo.

Such is the case with the piece below.

For ages I've been trying to find this beautifully haunting song with no luck. I heard it on the radio only once, some thirty years ago. I remembered the words and melody of the chorus; could hum most of the verse melody, but could not draw up the words.

And I remembered her name.
With my hasty induction many years ago into the realm of the internet, I mistakenly searched for what I presumed was the title. I was wrong. I tried several different word combinations, phrases I knew were part of the lyrics, in every woefully lacking result-swollen search engine of the day, music databases uploaded from the bowels of Bogota, Napster, Kazaa, all to no avail.

The song title was not as I supposed, (The) Wind's Gonna Blow, but rather two other words that followed in the chorus. Had I considered them, it might have sparked my investigation to flint success, but would have robbed me of this evening's unexpected delight.

I remembered the chorus verbatim and it was there I rightly supposed the title to be. The words that make up the actual title were, in fact, securely caged in my memory. However, I was erroneously fixed on the words that began the chorus, not at all what trailed in the last line. Musician's myopia of a sort.

Thus tonight, by some starry trick of Googlance, I came across her name, which took me to her website, which winced me to squint keenly at her discography, which led me to discover the actual title of this distant song, which, whenever it crossed my mind in the tumult of those enduring years, never ceased to produce an upwelling of tender endearment within me.

I was so long ago charmed by the pendulous lilt of a tempo that made me feel as if I were arcing high on a dreamswing in slow motion, breeze-swooned in dappling light beneath late afternoon trees. It's all still there, better than I remember it; still as introspective and wistful.

It begins not unlike Eric Satie's reveried and evocative Gymnopedie and proceeds to gently propel a lyrical theme of living life on life's terms, swifting across an embracing sky like a small bird made of twigs and clouds.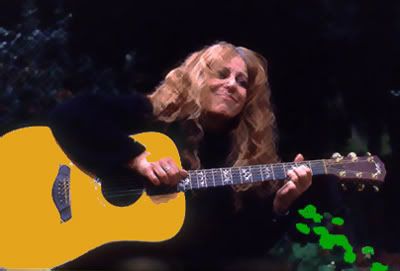 Written, performed, and sung by the incomparable and prodigious
Wendy Waldman
, you may listen to her song,

Wild Bird

, by clicking on the player below. Lyrics now exist only here at Drachenthrax, I'm happy to report, and I hope I've listened well and recorded them correctly. Please, enjoy and let me know what you think.
Wild Bird
Here by the fireside
Whoa, I can see
Your glowing face
Comin' to me
After it's over
What will there be
Just a breeze through the lace
Like a soft memory.

Far on a hilltop
My soul it does dance
With the wonder of knowing
We were given a chance
To know that we took it
And gave of our best
The poets and singers
Let them tell of the rest.

Oh, the wind's gonna blow
The wind's gonna blow
Nothing to do but let
Your wild bird go.

Deep into winter
My dream will live on
And the feeling of wanting
A time that is gone
The silent uncurtain
Of each pleated thing
To watch it go shimmerin'
As it flies into spring.

Oh, the wind's gonna blow
The wind's gonna blow
Nothing to do but let
Your wild bird go.
Wendy Waldman
(from the album Wendy Waldman, 1975)
[Color photos by
Michael Boshears. Digitally enhanced for non-
commercial purposes of illustration and fan appreciation]