The meaning of it all
The original name I came up with for this webpresence was
Marrow
Nectar
. It sounded good at first, but then wore me down with its undeniable pretentiousness. The idea of something deliriously sweet at the core of the bone was what misled me. I'm not sure I've done any better with this new title. It certainly has a higher STQ (sonic testosterone quotient), but beyond that, what the hell does it mean?
Drachen is, of course, dragon. In the Germanic tongue, it is the colloquial pejorative for that much maligned mythic beast. Drachen is also the German word for both kite and spitfire.

Vermithrax Pejorative was the name of the vicious, offspring-protective mother dragon in the 80's fantasy film Dragonslayer. Vermithrax translates into terrible worm. I conjoined the two words into this title.
Therefore,

Drachenthrax

means literally, terrible dragon.
Put that word into Google, and voila: you get me.
It is also the year I was born in under the Chinese horoscope. My 16 year-old son, Camlen, was also born in a year of the dragon. Dragons seem to follow me around much like the number 11. Always have. One day I will have the drachenadler (dragon with the head of an eagle) Nicole designed for me tattooed on my back. Hopefully in Switzerland next spring, by the same artist who did hers.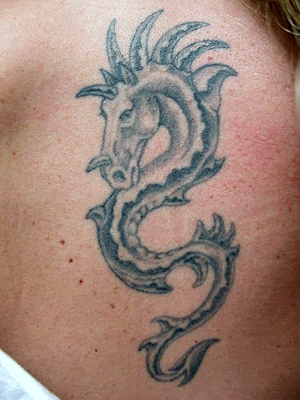 With regards to
Drachenthrax

, my webpresence or

blogsite

, as I prefer to call it,
I am going to make a concerted effort not to write about the trivial details of my daily life, but rather attempt to express the inner worlds of it. I am certain to fail from time to time and include meanderings that have me doing laundry in my basement while deciphering hidden messages in the algorithms of spiderwebs. So please forgive me in advance.
I also ask forgiveness of those of you in my life I mention, or neglect to mention. It is bound to occur, either way. I will not in these posts castigate nor hold to ridicule those of you whom I love. If I do cross the line, please e-mail or comment in the appropriate area. It is my intent to be as honest as my fibimometer will allow in sharing the world through my oftentimes occluded eyes.