Horses to set to meadow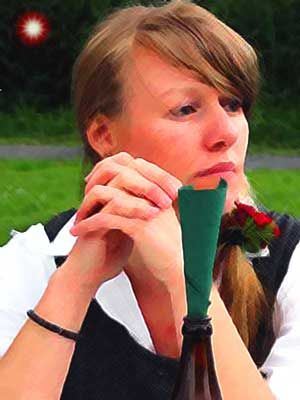 She Looks Across
She looks across the terrain of what is to come. In this youthful
season, there is no looking back. The river has run towards the sea
far longer than she need grant it measure in her life. She has horses
to set to meadow, forests that know her name in the darkness as
well as the dawn.
Time lives in the nautilus of her womb as it does
in the vastnesses that trail above her blond summer tresses. There will
be
many who will come to love her. She will choose among them for what
some presence might bring. Or not.
She holds creation by the merest breath,
and whatever comes to pass is hers to embrace. I have loved her with my
imperfectness, held her briefly in the cherish of what lies between
whatever happiness I've ever longed for and the starfires that make
up our very atoms. It is all I carry of her now, the remembrance of how
she felt in my soul's enhance. It will have to suffice.
She looks across the terrain
of what is to come and there is a slight pleat of sadness there. As with every
dear season, it is far too brief, too riverly, too seastruck to remain for long.
Yet I see it, nonetheless. I see it and it breaks my heart with its cruel necessity.
Joseph Gallo
October 17, 2005