Standing at the first door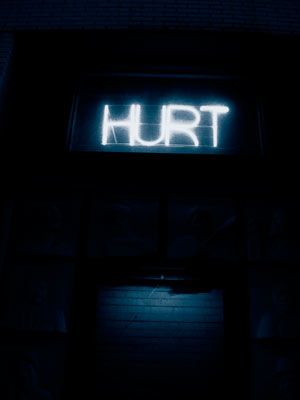 My father, Ernesto, passed away on May 29

th

. It was unexpected. He was 72 years old. I am standing at the first door of grief. I've no idea where this threshold leads, how many rooms this place holds. I trust that if there is a way in, there must be a way out.
We were not close. He left our family when I was three or so. We had minimal contact through the years and I hadn't seen him for about six. Both myself and my sister, Yolanda, came from the union of he and my mother, Jenny. He had another family afterward that produced three daughters. They are my half-sisters: Alma Nubia, Arlene, and the youngest, Lorraine.
Lorraine alone attended the funeral last Saturday along with Yolanda and me and a host of paternal-sided family I had either not seen for nearly forty years or had never met. It was overwhelming. Only now, here and back home in Oregon, am I able to settle it within me. This will take time.
Meanwhile, I just happened to tag the following poem to a dear new friend, poet

Sage Cohen

, in the afterthought of a letter about grace and loss. She had reminded me in her own challenges with grace of an elderly woman of ninety-something who once told me that life was about "the grace with which we lose things."
I've never forgotten her words.
Why this poem came to mind afterwards, I've no idea, but it seemed appropriate as I struggle to find meaning and measure in obtaining and exercising that very same grace. It might begin like this, an era of confusion and distrust, of cynicism and suspicion. I can only hope that it evolves into something I can live with.
Everybody's saying that Hell's the hippest way to go,
well I don't think so, but I'm going to take a look around it though. ~Joni Mitchell (River)
The Guests To Come
These are the days that drive nails through the heart. Whether left lashed to a fleshless wheel as adornment on some bleak Roman road, or vanquished by the rich scent of a conquered wind, the sun knows no mercy in its traverse through a bruised and ravenly sky. And this morning has barely begun. There are coffee grounds to dispose of, a chipped cup to rinse out, and fresh water to draw.

For all your prayers, there will be strange gods who will invite themselves for early supper to sit restlessly at your sleeve. Set all forks to their left. They will consider this an omen. Place each bowl upside down. They are not without humor. Then watch as they politely spoon the tabled servings you have set before them, each offering swallowed with a seasoned measure of divine contempt.

They will bring their own knives and forgo your shepherd's bread. In scraps of small talk, they will lie by telling you Love is a savored wine and demand more than your small bottles can pour. This is their way. They will not stay for dessert as they always have somewhere else to be. They will instead await the meager sweetness of your breath as you kiss their luminous faces goodbye. But it will not be enough
to sugar one impatient tooth.
These are indeed the days that drive nails through the heart. But the day is yet early. There are abandoned shrines to be swept and defiled, oathsome covenants to break, perilous marble to cajole and reshape into more favorable deities. Gods are quite used to being fired and replaced. It is what puts us on equal footing and affords some trace of implied understanding.
In time they will pass
through your door, out and down the snow-choked walk without so much as a glance back. They will mutter something you will not hear, their vast words trailing like smoke over their shoulders, leaving you alone to decipher the insudden silence. Be content. You still have the night, the company of candles, a cricket's bowed solo, and the rest of your life to forget they were ever here.

So close and lock the door. Push that small roll of carpet up against the bottom draft. Reset the chairs and clear the table. Stack the dishes and wipe down the countertop. Save the leftovers. Draw your blinds and take a deep breath. Steady yourself for the guests to come. If these are the days that drive nails through the heart, then these are the nights that pull them slowly out. One by one. One by one by one.
Joseph Gallo
August 2001