Monsters too terrible to imagine
Lies We Tell At Sea

For Cindy

We tell our landloved daughters the sea is a fancy room
in Florida, or a seminar on rigid software in San Diego,
anything but the awful tideless truth. But this is a grand deck
on a grand ship and there is a swollen wobble in the world.

Tonight I dream sixty knots on glass with Mexico racing by.
There
are superstructures scattered in these waters erected to drain
the
seabottom, siren tongues to dart and flash, to ensure the
safety
of
a way of life we fool ourselves into thinking we cannot afford.

These are the deep lies of leviathans pulling the long black
night through the eyehole of a moonless sea that cannot exist
anywhere but where it does. Dawn sleeps somewhere in soft
cotton skies as we glide over monsters too terrible to imagine,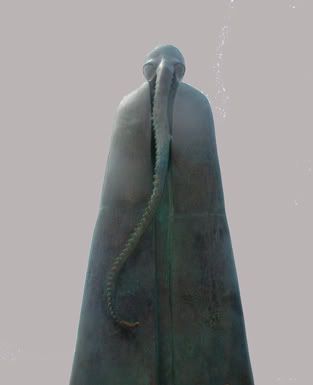 but we do, we do anyway. At the piano bar, a string trio
gives us pause, frets us to consider the music of sinking
much sweeter than this somehow. They say drownwater is
an icy choir that cavitates a rapturous threnody in the soul.

Gunwales become a polished remorse, buoyancy a luckless joy.
Our daughters already know this for they too have learned to
tell us they mean something else, equally fathomless. After
all, the truth is too tenuous to trust. By virtue of some ancient

salt-faring past, we agree to tell these lies only at sea believing
this place worthy of holding all our schooling conceits, all the
unmeasured keepers and lamentable throwbacks we can muster
to heave overboard if only to see what floats and doesn't.

Joseph Gallo
August 18, 2002