Silence served with love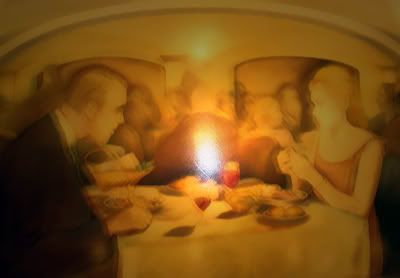 Cooking For One
First the tomatoes, setting them out side by side, red bolides
filled with the blood of an Italian sun, slicing them through
a silent galliard strumming in my head, the lute-shaped cutting
board coarse along the edges, the rounds dancing and falling
in cinque passi precision, fretting two white moths curtsying
on window curtains spring moonrise takes no trouble parting.

Next, a small wedge of cheese willing to yield what age does
to each of us, something able to sit unflinching before a silver
cunning as the blade moves through neatly as with a purpose
that presses tears from cured olives to pool in a small plate set
aside to hold a divine stigmata of red vinegar for the bread
unwrapped from paper that only hours before rose in a crucible
of brick and fire, in the leavened resurrection of all we find holy
in the fields and the grainless labors of our own uprooted hands.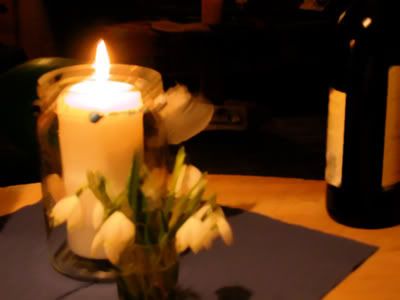 I do this because I matter this night, because I know each small
action I perform will culminate in my setting a place for you
across the table, because I will do so knowing you will not come.
Lamb on the bone succulent as an old testament, savory as saxophones on a Saturday night, a fat candle placed midway for some cruel ambience that will lose itself in what we might have been together.


I will sit and finish. I will sit a while, drink tapwater from cut glass, finish some more. There will be food enough for tomorrow, but I will be finished. I will ask the you that might have been here if there is anything else you want, anything else you might desire. I will pull out a small notebook and read something to curry your absent ear. It will be a dessert of silence served with love and left to settle the empty room. I will clean up and be filled by that very love.
Joseph Gallo
May 2, 2007