The faintest color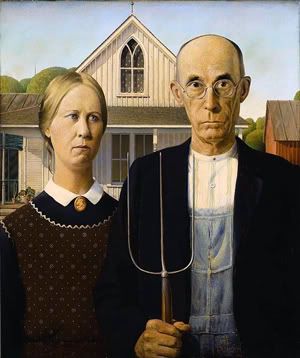 Woman On The Left
A certain menace in the eyes, the fork of no concern
belies wherein a worm or hook might tack or take its turn,
No gold laced hay or sainted straw scattered in the bed
Day breaks beyond the frame where shadows home the stead.
Her head poised in mild regard to what the right hand knows:
Hard as gothic glass is how American winds pitch blows.
No cotton more severe than that so collared in the light,
Fear the faintest color overlaid in starchest white.
Joseph Gallo
August 3, 2007