The emberless journey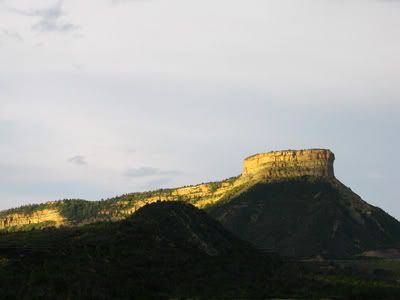 Sometimes Walking

We say little as we punish the distance
with the tread of our silence. Coyotes
move in much the same way. Only when
the agony of a lesser light crests the evenscape
to spill its roar of driven rising do they find
it irresistible to stain the sky in kindred ache.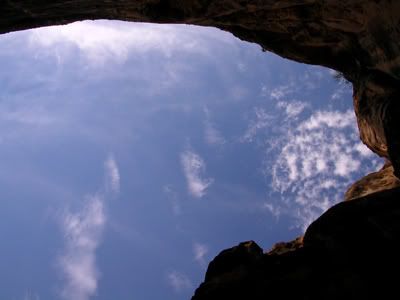 Inside, we are a nimble clash of scumbling
weather quarried from clouds crashing like
clumsy slabs in the hovel of a blind sculptor.
What we want to say, what we choose to say,
what we fear to say assures quietus as we block
unspoken rehearsals in our heads. Giant saguaro
stand resigned along this pointless path, their
scarred arms surrendered and shouldered up.

In the dirt, we see travel in rattler and gila,
their common names given to raven ruckus
and rabbit wind. What it was we didn't talk
about, I do not recall. Sometimes walking is
enough and these things work themselves out.
The proven poultice of a needless journey
often takes one farther than can be supposed.




Whatever it was it was gone, passing with our
passage through the overlook. There we stopped
to gauge rest and run our eyes across the red
canyon where ruin and remnant huddled against
sheerstone walls. There, amid broken olla and black
char left from ancient fires, people like you and me
once stood circled in their trackless hush, allowing
the emberless journey to bring them here to ours.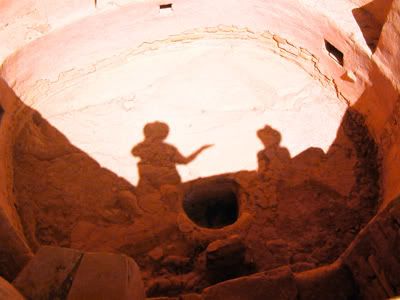 We thank them for their sacred keeping, return
to tend time in our own time, and with our turning
leave to the desert more than it lent to us. Sun
settles into ocotillo like a bird nesting a comfort
we can only imagine. Soon the far lights will appear
and we will come to change into what we become
when this moment draws. Later, we will talk about
what powerful communion we shared, feather it into
a fetish to shake true and shapeless as good medicine.

Joseph Gallo
December 12, 2006